.
.
.
.
.
and other than that note, everything else is shit.
hell fuckin' yeah!
Doppelganger
Promote Your Page Too
Like this if you havent already.
$5 cover. Come check it out. :)
this saturday is the first fundraiser event for this year's infringement festival. It is something i always wanted to be involved in but with work hours as they were it was impossible. now that im not funeral directing anymore, nor working anything else, i am getting involved. (not to mention an idle mind always leads me to fuck my life up)
Yes, I believe it is a fact they are singing at the opening of a massive prehistoric Giger vagina.
(
Love Never Dies??? Actually, it probably does.
Collapse
)
Not mine but sharing anyways, shhhhh!!!!!!!!


livejessicalive.wordpress.com

the next 6 hours are going to be brutal.
i should probably just cross post, but instead im making a seperate blog for what i am about to embark on. ill still update this with private immature nonsense, but take a look at this once in a while:
who the fuckz has myspace still??????
This whole world's wild at heart and weird on top.
(trust me, the party itself wont be as boring as this invite. that's why i have no energy for a fun invitation.)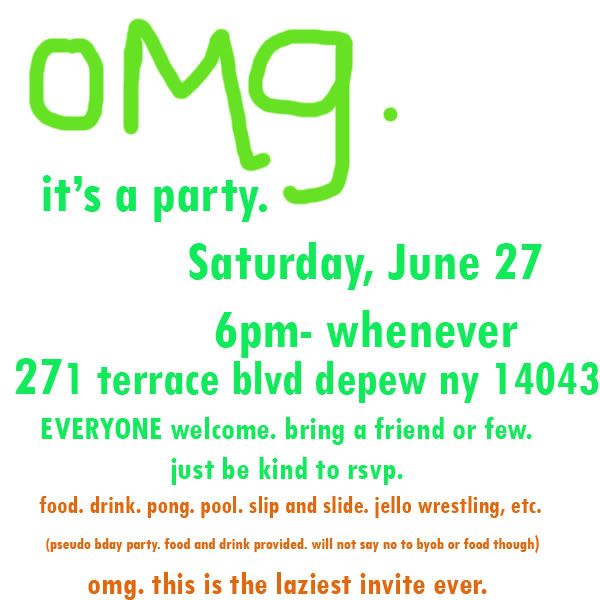 everyone should come. more than welcome to bring people. but i DO appreciate rsvps. :D
and everyones invited.
obviously the one on the left is me today. i found that picture in my car, oddly enough. i figured out that it was from when i was being licensed i had to send a picture in to the state, so that was like..... 9ish months ago. And appearantly I was too fat to brush my hair or something.
need i say more besides i nearly lulzed my way into a ditch driving?
the flash destroyed the picture i was holding so i shittily photoshopped it in. you get the point.